LiveFit Festival Announced
NZ's only health, wellness, fitness and lifestyle Festival is on in Auckland this Summer!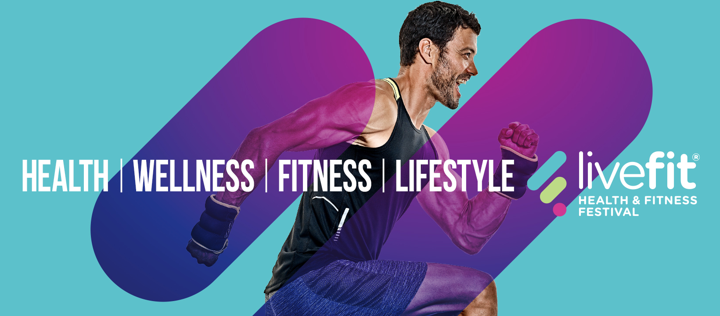 The Trusts Arena, Auckland 21-22 March 2020
An event that 'every body' can attend and feel comfortable at, LiveFit has all the health, wellness, fitness and lifestyle products in one place to help you live a healthier, more active lifestyle.
Perfect for health & fitness enthusiasts, anyone wanting to find out more about health & wellbeing with something for the whole family!
LiveFit is an inspiring, engaging, motivating and interactive experience encouraging you to move more, eat better and LiveFit! It's feature packed with so much to learn, discover and shop, you'll be here all day!
Your entry ticket gives you access to range of activities at the Festival! 
WORKOUTS
We've handpicked some of the best local studios, fitness programmes and equipment providers to take you through a range of different workouts. Get a taste of what's available without having to visit a multitude of different locations - we've got it all in one spot! 20+ different workouts to discover, covering everything from HIIT to yoga! PLUS, Premium Workouts will get you closer to some of the biggest fitness trainers from around the World! 
LIVE COMPETITIONS
See some of NZ's best athletes compete in a range of different activities that will see them being put through their paces and see them vying for a chance to top the podium and bragging rights as the best in NZ!
HEALTHY LIVING KITCHEN
Hands up if you love food! Not sure what you should be eating or how to make healthy meals creative or inexpensive? Stop by the Healthy Living Kitchen to see our top notch presenters demonstrate some delicious recipes, offer advice and knowledge around various foods or the latest diet craze so you can make mouth-watering meal options at home!
SEMINARS
Expert advice from qualified speakers on a range of different topics covering health, wellness, fitness and more to help you understand what's what and take home information to help you with your health & fitness goals. 
HEALTH FOOD VILLAGE
With so much to see and loads to get involved in, we couldn't not ensure you get something to eat! We've hand picked healthy and delicious food trucks offering a range of food options to satisfy every tummy so that you can hydrate and refuel before taking on another workout or take another wander around the Retail Zone!
GET READY TO SWEAT, SHOP, & DISCOVER, WHILE CRUSHING ALL YOUR HEALTH & FITNESS GOALS!