LiveFit Festival announces new dates for 2021
Postponed for the second year in a row due to coronavirus, LiveFit is committed more than ever to bring New Zealander's a health and fitness festival like they have never experienced before.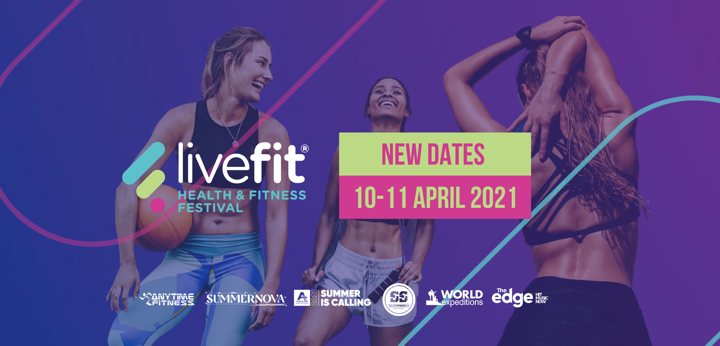 The idea behind LiveFit Festival to become New Zealand's first Health and Fitness Festival was conceived over 2 years ago. ​ The event has more than 70 experiences lined up over a 2 day festival including over 40 workout sessions, yoga, boot camps, cooking demos and workshops hosted by some of the biggest names in the industry such as Sjana Elise, Dan Conn, Ellice Whichello, Danijela Unkovich and Sarah Tanner to name a few. Unfortunately, in 2020, New Zealand went into its first lockdown 1 week before the launch of the inaugural festival.
"Here we are again, having to shift the LiveFit festival because of another lockdown. Disappointed would be an understatement, however, the LiveFit team is determined to make this event a reality. The health and fitness industry in New Zealand deserves a world class event where education and inspiration can meet passion and community. New Zealand is going to LiveFit in 2021" says Jono Ridler, LiveFit Festival founder.
After much careful consideration, the organisers have made the decision to move LiveFit Festival to 10 – 11 April, 2021. These date changes are in light of the ongoing Coronavirus (COVID-19) developments here in New Zealand which came into effect on Sunday morning. ​ After going through this back in 2020, organisers have been resilient, spending the last 12 months preparing to host the Festival in 2021, working alongside advisory boards, speakers, exhibitors and event partners. The team at LiveFit are genuinely disappointed at not being able to host the event again this March. Despite the setbacks in 2020, the 2021 event has grown in size bringing together even more brands, world-class trainers and health & wellness experts and the team expects that the LiveFit community will be ready for the highly anticipated launch of NZ's biggest health, fitness and wellness event at the new dates in April.
LiveFit is a true experiential festival highlighting everything new and exciting in the health and fitness industry. Designed for New Zealanders of all ages, abilities and fitness levels where they can experience everything from mindfulness, nutrition, mental health, yoga and wellness alongside the latest products, functional fitness and even augmented reality sports.
LiveFit Festival is ready more than ever to host New Zealanders at our first ever health and fitness festival. "Anytime Fitness have shared the journey with the LiveFit team as they've planned and adapted to ensure the inaugural event goes ahead and delivers on their innovative vision. Our own brand pillars of Coach, Care, Connect resonate with the aspirations of the LiveFit Festival so we are excited to be involved with this opportunity for the New Zealand public to enjoy an incredible range of health and wellness products and services at a new and vibrant event. We can't wait to see all the hard work and planning from so many organisations come to fruition." Says Vanessa Parker, Chief Marketing Officer at Anytime Fitness.
Under Armour's Head of Brand and Sport Marketing, Matthew Wallace adds, "Our goal at Under Armour is to connect with kiwi's and become more relevant in their daily lives. Local events provide a great platform to help achieve this along with general messaging of physical and mental wellness. With the ongoing uncertainty of Covid-19, it is now more than ever that we need to stand behind events and those people involved. We look forward to activating at LiveFit in the near future".
Our thoughts are with you all as we continue to battle this lockdown together. We want to thank our LiveFit community for their continued support, open discussions and encouragement. ​ As everyone has been reminding us, great things happen when community comes together and connects. It is for this reason, we are going to LiveFit in 2021!
All registration and ticketing will automatically be applied to the rescheduled LiveFit Festival 10-11 April 2021 at Trusts Arena, Auckland. ​
The latest information will always be available at www.livefit.co.nz